Sweaty MILF Husband Swap Threesome Cory Chase Dana DeArmond Van Wylde
7
Sweaty MILF Husband Swap Threesome Cory Chase Dana DeArmond Van Wylde
Cory Chase and Dana DeArmond are planning a hang out. When Dana shows up all sweaty from a run, Cory offers her shower. Little does Cory's man, Van Wylde, know that it's not his wife in the shower. Van slips his dick into the willing Dana and soon realizes that the wrong pussy. He runs off with his dick out only to run directly into Cory, who's more than happy to see him. When Cory remembers Dana's in the house, she nervously looks for her friend unaware that Dana's sneaky swapping in for Van's cock. Cory catches Dana cock in hand and teaches her a scissory lesson in fucking her husband.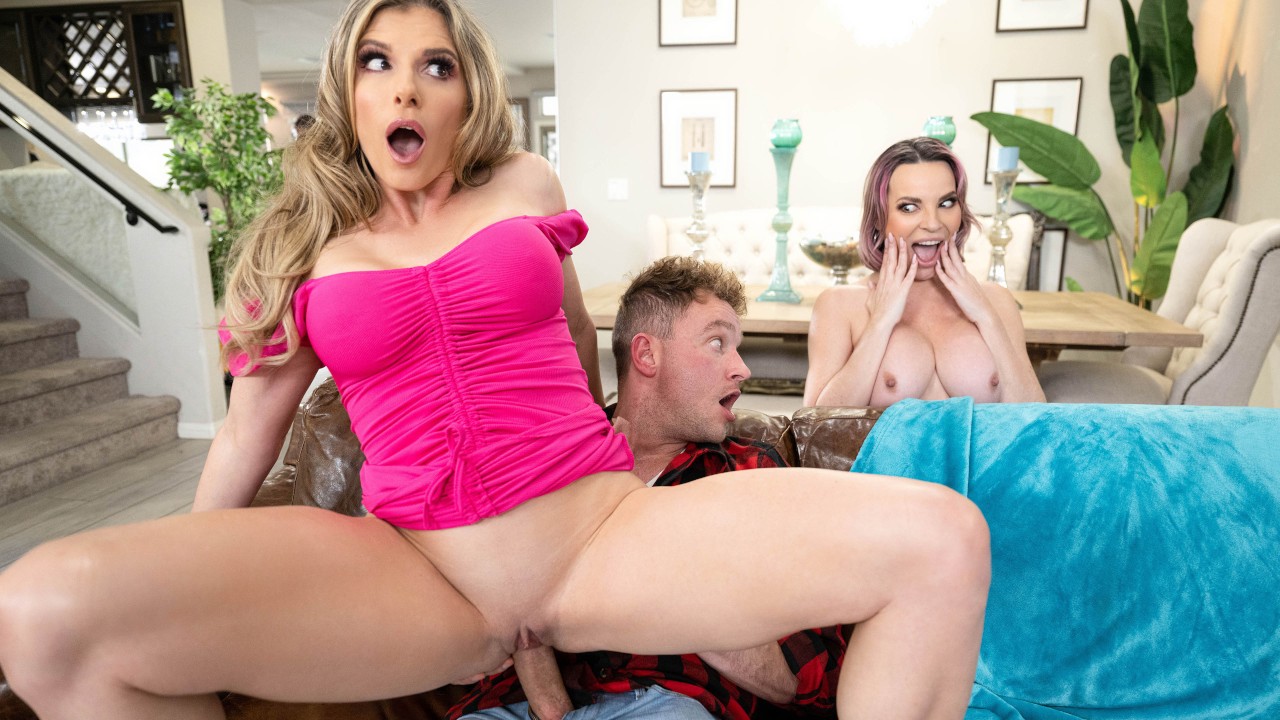 There are few things Cory Chase hasn't tried yet on camera, but no matter what role she's acting, one thing remains constant: the skillful and slutty way she handles a cock. As you can see from her wickedly juicy ass and flat, toned stomach, Cory never skips a leg day at the gym. She favors workouts that mix cardio and weight-lifting, and knows her way around the squat rack well enough to school you on your form. Ever since she first took a dick on camera, Cory's been in heaven acting out all her wildest fantasies on camera. But does Cory have more fun posing for still-shots or going wild in hot sex scenes? As she puts it, "I love doing photo shoots and getting all dolled up and really getting those sexy poses that you just can't get with video. Video, on the other hand, has a lot more feeling and feels more natural and relatable."
Name a form of social media and you'll see porn celebrity Dana Dearmond was on it before it was cool. That's why she's always called herself "the internet's girlfriend." This all-natural babe has a knack in her rougher scenes for pushing the envelope and going beyond what you think are the body's limits. Dana presses harder, fucks deeper, and takes on more cocks than she could possibly fit in her sweet holes. This Southern babe has a gorgeous body that she treats like a temple. The most tantalizing part of her scenes is when she slowly strips off her clothes to reveal her lovely pair of big, natural tits and juicy ass. In 2012, Dana was recognized for the steaminess of her onscreen fucking with the AVN Award for Best Girl/Girl Scene. She explains that her obvious enthusiasm for porn comes simply having a higher sex drive than most people, saying "I just have a passion for performing and I am very fortunate to have been able to do what I love all my life."
Like his cinematic namesake, Van Wylde loves the ladies, and the ladies love him. It's not hard to imagine why. It could have something to do with his charm and wit, or even the way he dresses, but chances are it has a little more to do with his skills between the sheets and in front of the camera. A big dick never hurts, either! Van has been rising up the ranks one satisfied pussy at a time since he got signed back in the summer of 2012. When he's not fucking the most beautiful women in the world or chatting away with fans and fellow stars alike on social media, you can probably find him off the California coast, catching some sweet Pacific waves on his surf board.