Curvy and Cock Hungry Luna Star Angela White Keiran Lee
16
Curvy and Cock Hungry Luna Star Angela White Keiran Lee
What do Angela White and Luna Star have in common? They're beautiful, they're curvy, and they're hungry for Keiran Lee's cock! Dressed in matching lingerie, Angela and Luna play with each other, sucking and finger fucking each other's pussies. Needing more, Keiran comes (and cums) to their aid by pounding their tight holes, before Luna and Angela suck his dick together and give him a titjob he won't soon forget!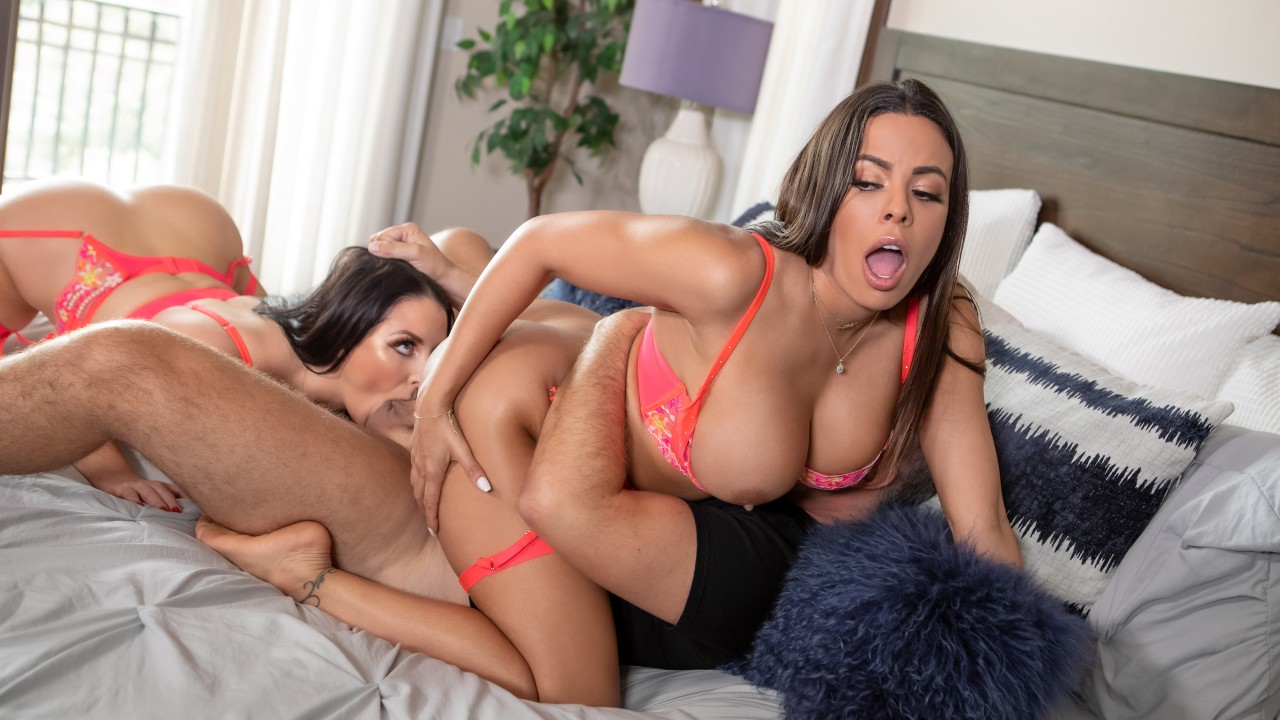 Luna Star is a big booty beauty who believes she was "born to do porn." Leaving Cuba behind for Miami, Luna hit the books and got herself a college degree. But as fate would have it, she was destined for bigger and harder things: in 2012, Luna popped her porn cherry and never looked back. Despite her petite frame, she loves dominating, taking charge of every big-dicked dude that comes her way. Whether it's a stiff dick up her bubble butt or diving head first into a wet pussy, Luna's luscious ass is up for it. When this curvy beauty isn't on set, she's putting those thick legs of hers to work on hiking trails, boxing up a storm, and listening to smooth jazz. Saying she wants to be "the best porn star ever" means you can expect way more of Luna Star's enthusiastic fuck sessions right here in the videos below.
One of the most outspoken and intelligent pornstars in the biz, Angela White is the perfect representative for the XXX community. This brilliant (and busty!) university grad has made it her personal mission to expand society's acceptance of adult entertainment while making people everywhere more comfortable with their sexuality. For Angela, the first step to making the world a friendlier place for sex workers was to use her real name as her stage name, taking a stand for herself and her right to be a sexual, powerful, and independent woman. This all-natural Aussie is happy with the choices that led her to porn, and she wants everyone to know it. Ever since her 2003 debut, Angela has been garnering great enthusiasm over her big tits and juicy ass. Now, over a decade later, AVN Hall of Famer Miss White is still going strong, picking up awards like candy on her path to total porn domination.
When it comes to porn, Keiran Lee is a legend. He has shot more scenes, eaten more pussy, and dicked more holes than any other dude. His 10-inch willy is a wonder to behold, and even more marvelous due to his capacity to get hard and cum on command. But just who is Keiran Lee? In his own words he tells us, "I am just a normal guy." Our self-purported ordinary bloke grew up in Derby, England. He was a soccer player who played center-half, both in the UK and the US. So how does an average guy go from kicking balls, to having his balls licked in XXX films? The story of how Keiran became the porn legend he is today is a good one. He was working as a project manager for Network Rail and while on vacation, friends took pictures of Keiran banging a girl and posted the pictures on a dating site. A film director saw his star quality (aka size of his cock) and quickly set up a meeting. Keiran spent the next few years on the greatest journey a man can take; fucking gorgeous women throughout Europe and getting paid well for it. A short while later he started shooting in America, at which point he was quickly signed to a multi-year contract, and the rest, as they say, is history. With a personality as large as his dick, Keiran continues to amaze fans and wet panties worldwide.